For those who read the news and have seen Storm Alberto heading towards Lake Michigan (for the first time ever), you may still be wondering what a 'Tropical Cyclone' is and why they always seem to be in the same region. Here are some facts you might like to know as we enter the Atlantic storm season.
1. What are they?
A tropical cyclone is essentially a system of low pressure over tropical or sub-tropical waters. These systems contain thunderstorm activity (otherwise known as convection) with slow-moving winds that can circulate both clockwise and anticlockwise; anticlockwise in the northern hemisphere and clockwise in the southern hemisphere.
2. Why are they called different things in different places?
It confused me for a long time; is there a difference between Cyclones and Typhoons? If there is, what is it? Well, it turns out it's just a geographical difference. Once wind in the system has exceeded 74mph, in the Atlantic it is classed as a Hurricane and the eastern Pacific whereas, in the western Pacific it is classed as a Typhoon. Areas such as the Indian Ocean and South Pacific, it can be classed as a Tropical Cyclone or Cyclone. The literal only reason for these different terms is dependent on where the storm forms.
3. Why do they have personalised names?
This is just so there is an ability to distinguish between the storms as there is likely to be more than one per year. Also, the names don't keep going down the alphabet until 'A' is reached again. Every year the first storm will start back at 'A' and will then continue down the alphabet until the new year is reached. After 6 years, the names are recycled, so for example, if there was a Storm Alice in 2011, Storm Alice would then be used again in 2018.  This system started in 1953 by the National Weather Service whereby it was also stated that the letters Q, U, X, Y and Z shall not be used. The furthest it's ever come to reaching the end of the alphabet was in 1995 when 19 named storms passed over the Atlantic ending with Storm Tanya which dissipated on the 1st November 1995. Also, extremely intense and destructive storms (that are potentially Category 5) are not used more than once to show sensitivity to people that were affected by these events. (The National Hurricane Centre has a list of retired names on their website.)
4. How do they form?
In the tropics, there is an area of low pressure which is above and below the equator. Above the equator the winds blow north-west and below, the winds blow south-east. When these two meet, they are moving in opposite directions so can spin around each other. Not only this, they require warm water to form which means that the warm air (usually around 27 degrees C) on top of this ocean rises, causing an area of low pressure. Underneath the warm air system, the cooler air is moister and forms clouds underneath the warm air. This whole system is fed by the warm ocean and the two sets of winds that cause the motion of the cell.
5. When might they occur?
As the previous point suggests, they are caused during warm seasons during peak level of solar radiation. The ocean itself reaches its maximum temperature a couple of weeks after this peak and thus the storms will start occurring usually during the late stages of summer and early autumn. This occurs from July to September in the Northern Hemisphere and from January to March in the Southern Hemisphere.
6. How do they die out?
In the most basic terms, when these systems reach land or cold water, they are no longer being fed by the warm ocean. This means that they are not being fed any water or convective energy to use so therefore they weaken. Another way they could weaken and die out is when dry, cool air is suddenly present in the system, this reduces the possibility of convection to keep the storm going.
7. How are they ranked?
There are multiple different scales used to measure their intensity. The most common scale uses wind speed to measure its intensity and is called the Saffir-Simpson scale.  Category 1 is the weakest form of a cyclone and Category 5 is the strongest.
Not only is wind speed used but also a less objective measure can be found. This might include observations of destruction the cyclone causes. For example, a Category 1 might only damage some crops and trees but no houses whereas a Category 5 would cause extreme and widespread destruction. There is also a scale for this subjective measure which is called the Beaufort Scale which is a scale from 0 to 12 (similar to that of the Modified Mercalli Scale for earthquakes). This scale covers all wind speeds and not just storm events. It starts at wind speeds less than 1km/h and escalates to hurricane force winds at over 118km/h.
Not only are there different types of scales, but the different geographical regions have all have their own scales with different categories for the severity of cyclones.
8. How are they forecasted?
Due to technological advances in meteorology in the past 50 years, computer modelling, stationary satellites, ships at sea and aircraft can all predict the formation and track of cyclones.
Organisations such as the National Hurricane Centre in Florida track specific areas of the ocean that are susceptible to storm events to measure changes in pressure and seeing clusters of thunderclouds that could lead to tropical depressions. Once a storm system has been detected, computer modelling, synoptic forecasting and statistics can predict what the storm is going to do from studying previous storms. (Of course, you can't control mother nature so predictions may not be completely accurate).
9. Could they occur in the UK?
In theory, they can't as they are tropical features that occur in latitudes up to 20 degrees away from the equator. However, the UK can receive areas of low pressure that have originated as tropical cyclones but have moved to higher latitudes so are technically cyclones/hurricanes. It is very unlikely that the UK will receive extreme cyclones found in Central America as the sea surface temperatures are not warm enough and the area of depression is not low enough. This did not stop Storm Rachel in February 2018, Hurricane Ophelia in 2017 and Storm Rina in 2017.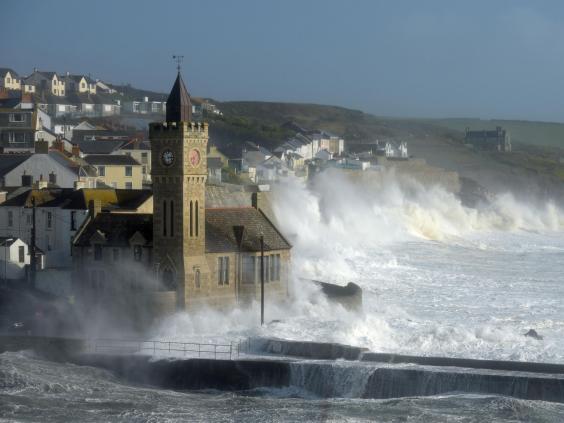 10. Are they affected by climate change?
This is a million dollar question (quite literally) and is not yet fully understood. It is theoretically thought that a rise in temperature by 2.5 degrees C could double the amount of storms we receive as warmer temperatures cause warmer oceans which cause more evaporation and could cause more storms. However, the Intergovernmental Panel on Climate Change (IPCC) thinks that the frequency of storms will stay the same (or even decrease) while their intensity goes up. It's clear that it's not yet fully understood and will need to be further researched in order to help to reduce the risks in association with them.
If you have any questions or points of interest, please feel free to comment below or send me a message on Instagram @_alicefowle_
Cover photo taken from here.